Annual Fund 2018 - 2019
Mark Ross Montessori Foundation
The Mark Ross Montessori Foundation (MRMF) is a non-profit 501(c)(3) entity that exists to support the Ross Montessori School. The mission of MRMF is to provide financial support to the Ross Montessori School and to help the school achieve its vision. Through the Annual Fund, Capital Campaign, fundraising events, and grant writing, the Foundation will grant money to the school to augment educational programs.
Provided by CoolFundraisingIdeas.net
What is Montessori education?
Montessori education follows the child. Teachers create individualized, self-paced work plans for students to follow as they master skills and concepts. Teachers serve as guides, and students are encouraged to explore and discover on their own. Through this educational model, students achieve academic success as well as physical, social and emotional growth.
At RMS, programming is enriched with art, drama, foreign language, outdoor education, and technology. Students participate in community service. Our goal is to foster competent problem solving and to cultivate a community that embraces humility and grace in the face of everyday challenges.
What is a charter school?
RMS is a charter school authorized by the Colorado Charter School Institute. As a charter school, RMS is allowed the freedom to be non-conventional and innovative while being held accountable to state standards for advancing student achievement. Because charter schools are public schools, they are tuition-free, open to the public and do not have special entrance requirements.
However, charter schools receive less funding than conventional schools. For this reason, giving to the Annual Fund is critical to the success of our charter school.
What is the annual fund?
The Annual Fund is our yearly appeal for donations that support an educational environment of excellent teaching and learning. The Annual Fund underwrites the many tools and activities that support a well-rounded and vibrant Montessori education. It funds our educational program directly in the following ways: classroom assistants, visual arts, performing arts, Spanish language, and technology.
Why is my gift important?
The state of Colorado ranks 35th in public school funding, and charter schools like RMS receive 20% less funding than other public schools.
WE BELIEVE OUR CHILDREN DESERVE MORE. Every dollar you give to the Annual Fund goes directly to make up this difference.
PARTICIPATION IS KEY. High participation shows the broader community that we believe in our school and strengthens the school's position when applying for grants, loans, and other external funding.
OUR GOAL IS TO HAVE 100% PARTICIPATION FROM OUR STAKEHOLDERS AND FAMILIES OF STUDENTS ATTENDING ROSS.
In 2016-2017, our average gift was $483, representing a wide array of individual donations. Any donation, no matter the amount, is welcome and critical to our success.
How can I make my gift?
BY MAIL Send your gift to Mark Ross Montessori Foundation, 109 Lewies Lane, Carbondale, CO 81623.
ONLINE Donate Here
RECURRING GIFT Consider making a monthly or quarterly donation processed automatically. Spread your donation over the course of the year.
SECURITIES/STOCK TRANSFER Contact Tricia Williams, Development & Enrollment Director, see below.
MATCHING GIFTS Check with your employer to determine matching gift availability and program terms.
Make your dollar go further
There are many ways you can make the dollars you already spend go further for Ross.
Amazon Smile
Set up your account with Amazon Smile at https://smile.amazon.com/ and choose Mark Ross Montessori Foundation as the organization you support. Then, each time you shop, make sure you see Mark Ross Montessori Foundation and you know a percentage of your shopping will come to Ross.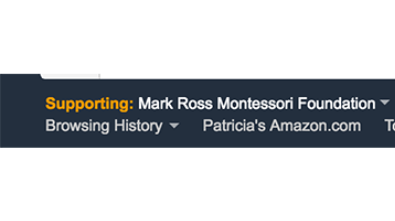 Register your value card online and enroll in the Community Rewards program. You can choose Ross Montessori as the organization you wish to support and for every dollar you spend, the Annual Fund grows!Go to https://www.citymarket.com/


iGive.com
iGive.com is totally free. Stores include Amazon.com, Pottery Barn, REI, Staples, Petco, Expedia, Best Buy, QVC and many more. Best of all, up to 26% of your purchase at each store is donated to Ross.
Local ways to keep giving
Clean out your closets and donate your gently used (no stains, tears or pills) clothing and household items (no chips and in working order) to local consignment shops. Give them the Ross Montessori account number and when your item sells, the consignment comes to Ross!

Miser's Mercantile, 303 Main St, Carbondale
Account number: 5594

Sawyer's Closet, 319 Main St, Carbondale
Account number: 2686

Back Door Consignment Store, 50 N 4th St, Carbondale
Account number: 0004

Once Upon a Child, 3110 Black Ave, Glenwood Springs
Write Ross Montessori School on the packages you drop off.

Heirloom's, 144 Midland Ave, Basalt
Write Ross Montessori School on the packages you drop off.

Ragged Mountain Sports, 902 Hwy 133, Carbondale
Write Ross Montessori School on the packages you drop off.
Your gift is deductible to the extent allowable by law. the Mark Ross Montessori Foundation is a 501 (c) (3) tax-exempt organizations. Tax ID # 20-2556775.

Call or email with any questions
Sonya Hemmen
970-963-7199