Annual Fund
6 days ago
Provided by CoolFundraisingIdeas.net
What is Montessori education?
Montessori education follows the child. Teachers create individualized, self-paced work plans for students to follow as they master skills and concepts. Teachers serve as guides, and students are encouraged to explore and discover on their own. Through this educational model, students achieve academic success as well as physical, social and emotional growth.
At RMS, programming is enriched with art, drama, foreign language, outdoor education and technology. Students participate in community service. Our goal is to foster competent problem solving and to cultivate a community that embraces humility and grace in the face of everyday challenges.
What is a charter school?
RMS is a charter school authorized by the Colorado Charter School Institute. As a charter school, RMS is allowed the freedom to be non-conventional and innovative while being held accountable to state standards for advancing student achievement. Because charter schools are public schools, they are tuition free (except full day Kindergarten), open to the public and do not have special entrance requirements.
However, charter schools receive less funding than conventional schools. For this reason, giving to the Annual Fund is critical to the success of our charter school.
What is the annual fund?
The Annual Fund is our yearly appeal for donations that support an educational environment of excellent teaching and learning. The Annual Fund underwrites the many tools and activities that support a well-rounded and vibrant Montessori education. It funds program enrichment directly in the following ways:
Why is my gift important?
The state of Colorado ranks 35th in public school funding, and charter schools like RMS receive 20% less funding than other public schools.
WE BELIEVE OUR CHILDREN DESERVE MORE. Every dollar you give to the Annual Fund goes directly to make up this difference.
PARTICIPATION IS KEY. High participation shows the broader community that we believe in our school and strengthens the school's position when applying for grants, loans and other external funding.
OUR GOAL IS TO HAVE 100% PARTICIPATION FROM OUR STAKEHOLDERS AND FAMILIES OF STUDENTS ATTENDING ROSS.
In 2015-2016, our average gift was $407, representing a wide array of individual donations. Any donation, no matter the amount, is welcome and critical to our success.
How can I make my gift?
BY MAIL Send your gift to Mark Ross Montessori Foundation, 109 Lewies Lane, Carbondale, CO 81623.
ONLINE Donate Here
RECURRING GIFT Consider making a monthly or quarterly donation processed automatically. Spread your donation over the course of the year.
SECURITIES/STOCK TRANSFER Contact Tricia Williams, Development & Enrollment Director, see below.
MATCHING GIFTS Check with your employer to determine matching gift availability and program terms.
Make your dollar go further
There are many ways you can make the dollars you already spend go further for Ross.
Amazon Smile
Set up your account with Amazon Smile at https://smile.amazon.com/ and choose Mark Ross Montessori Foundation as the organization you support. Then, each time you shop, make sure you see Mark Ross Montessori Foundation and you know a percentage of your shopping will come to Ross.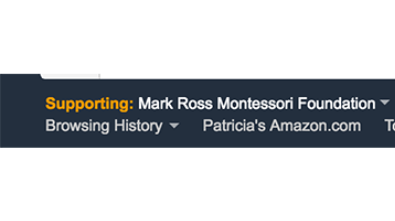 Register your value card online and enroll in the Community Rewards program. You can choose Ross Montessori as the organization you wish to support and for every dollar you spend, the Annual Fund grows!Go to https://www.citymarket.com/
iGive.com
iGive.com is totally free. Stores include: Amazon.com, Pottery Barn, REI, Staples, Petco, Expedia, Best Buy, QVC and many more. Best of all, up to 26% of your purchase at each store is donated to Ross.
Local ways to keep giving
Clean out your closets and donate your gently used (no stains, tears or pills) clothing and household items (no chips and in working order) to local consignment shops. Give them the Ross Montessori account number and when your item sells, the consignment comes to Ross!

Miser's Mercantile, 303 Main St, Carbondale
Account number: 5594

Sawyer's Closet, 319 Main St, Carbondale
Account number: 2686

Back Door Consignment Store, 50 N 4th St, Carbondale
Account number: 0004

Once Upon a Child, 3110 Black Ave, Glenwood Springs
Write Ross Montessori School on the packages you drop off.

Heirloom's, 144 Midland Ave, Basalt
Write Ross Montessori School on the packages you drop off.

Ragged Mountain Sports, 902 Hwy 133, Carbondale
Write Ross Montessori School on the packages you drop off.
Your gift is deductible to the extent allowable by law. the Mark Ross Montessori Foundation is a 501 (c) (3) tax-exempt organizations. Tax ID # 20-2556775.
RMS Trucker Hats
6 days ago
Thank you for your support
about 1 year ago
The founding parents and teachers at RMS have envisioned a new building for the school of their dreams for over ten years. This dream became a reality January 2016. The Shaping Our Future Campaign helped achieve this goal. This campaign changed the lives of hundreds of students for generations to come.
From day one, the RMS community has worked with passion and courage to establish a highly effective Montessori program for our valley. Our Montessori-trained faculty set very high standards for our students and maintain an excellent quality of education.
Together, RMS parents, students, teachers, grandparents and friends have shaped the future for our children.
Thank you for your support which made our dreams come true.
Trusty Trunk $50,000 +
Anonymous Friend of Ross
Anonymous Grandparent
Alan & Robin Cole
Marc & Melissa Ganzi
Urfrig Family
Wexner Family
Helpful Branches $10,000 - $49,999
M. Scott Bromwell, Jr.
Drs. David & Ellen Brooks
Luciano Riccardo & Jason Collins
Charlie & Megan Cook
Larry Giroux
Giora & Rachel Hahn
LeeLee von Stade & Tito Liotta
Greg & Caroline Mohl
Sarah Moore
Carlene Murphy
Pediatric Partners
Riley Family
Mary L. Riley
Umbrella Roofing
Apples of Our Eyes $5,000 - $9,999
Steve & Jenny Ayers
Eric & Sara Berry
Blackburn/Drew Family Art Room
Michael & Tami Cassetty
Patricia F. Feinberg
Dockery Family Foundation
FCI Constructors
Greg & Kristina Freeman
Jeff & Kimberly Kelley
Bobby & Tammy Mclelland
Ross Family Association
Serson Family
Robert & Lynne Serson
Loyal Leaves $2,500 - $4,999
Alpine Bank
Vernon & Patricia Brinson
Todd & Anne Cerrone
Jennifer Dockery
Catherine Gildor
Tom & Karen Hill
Charles & Sandy Israel
Jessica Berger & Mark Price
Barbara Reese
Proud Ross Teachers & Staff
Charmaine Locke & James Surls
Troy & Cher Vincent
Harry & Cathryn Voss
Patricia & Todd Williams
Randal H. Woods
J. Robert Young Advised Fund
Our Stars $1,000 - $2,499
Brooke & Jake Allen
Anonymous
Dave & Gina Betley
C C Blackburn
Beverly Chernoff
Jon & Alicia Creyts
Bill & Lori Gavette
Shawn, Carrie & Jonathan Haberern
Elaine H. Harvey
Kent & Amy Harvey
Charles & Mary Kottich
Leslie Lamont & Lance Luckett
Tim & Elizabeth Malloy
Mike & Nancy McMichael
Don & Jennifer Meij
Mt. Sopris Rotary
Dave & Stephanie Munk
Karen & Eric Peirson
Stephen & Betty Prout
William Ross
Craig & Robyn Scott
Christopher & Anetta Szczelina
Rochelle Smith & Peter Tibbetts
John Voorhees
Chris & Andrea Waldmann
Gregory & Carolyn Williams
Patricia Godwin Willimon
Joyce Woltman
$999 and below
Diane Ahlstrom
Aaron & Jodi Ahlstrom
Roy & Kathy Altman
Melody Anderson
Evelia Castillo & Jamie Andrade
Pat Apelian
Tom & Kathy Arensdorf
Greg & Kathy Askins
Askins PLC
Aspenalt Lodge
B&H Contractors
Cpher Bair
Dorothy Baldwin
Miranda Ballentine
George & Beverly Barker
Christopher Barnes
Dave & Sharolyn Barton
Cody Schuster & Dalene Barton
Johnny & Audrey Bauhan
Skip & Kay Bell
Romey & Tami Bell
Paul Bellin
Sandor & Amanda Benis
Ivo & Mirka Bensch
Jerrie Bentley
Stephen & Carla Berry
Stephen & Jo Bershenyi
David & Karen Betley, for Jordan & Jake Betley
Bishop Plumbing & Heating, Inc
Ronald & Jean Blair
Richard Blake
Candace Goodwin & Rick Blauvelt
Bldg Seed Architects
Dan & Pat Bonior
Robert & Ann Bonnette
Jeanne Bonnette Barnes
Book Grove, LLC
Michael & Jennifer Bouchet
Mike & Monica Brinson
Morey & Carol Brooks
Watts Brooks
Wren Brotzman
Howard & Ellen Brous
Brown Family
Kent & Emily Bumgarner
Susan Burger
Luis Huerta & Elizabeth Burgos
Jere & Leslie Burns
Canyon Insurance
Michael Caplin
Andy Carpenter
Brooke Serson Cernonok
Alan Chernoff
Robin Chernoff
Ray & Teena Cheshire
Children's House on the Roaring Fork
Brenda Christensen
Mark & Jeanie Clark
Colby June
Dustin & Anna Cole
John & Nancy Cole
Victoria Cole
Kelleigh Condon
Kaye C Condon
Marilyn Cool
Ron & Jane Corcillo
Woodrow & Angela Cosper
Barbie Cottrell
Sue Craver
Jim Gohery & Amber Crowley
Steve & Janice Crowley
Katherine Curry
Gretchen Curtis
Cuseo Family
Don & Jennifer Cutright
Dampier Family
James Daus
Joe & Kristin Davis
Dayton Foundation
Megan & Whitney Dean
Jack & Barbara Della-Bitta
Ron Kokish & Niki Delson
Don Dinnerville
Brandon & Ashly Ditlow
Keith & Carri Dolin
Penny & Chuck Donelan
Dave & Sharon Drechsler
PC & Lisa Drew
John & Barbara Dwyer
Jeff Walz & Dana Dwyer
Suzanne Eller
Silas & Rachel Elliott
Joseph & Damie Elsen
Bob & Nancy Emerson
Lianne Escher
Arturo & Nora Escobar
Dale & Bertha Eubank
Euro Electric, LLC
Lee Ann Eustis
Evergreen Events
Kristin DiBernardo & Eric Faas
Thomas & Darlynn Fellman
Grace, Jasmine, Thalia Ferguson, & David Finley
Arthur & Janice Forbes
Charles BIsrael Foundation
Robert & Shirley Francis
Mandi & Derek Franz
Grace Freeman
Kirsten Pamp-Friel & Thomas Friel
Rob & Connie Friesen
Froelicher Family
Brian & Rebecca Fuller
Arlette Gallardo
Mike & Geri Garvey
Jack & Glynda Gausnell
Wolf & Nancy Gensch
David Gensch
Dave & Judy Godfread
Jeff & Christine Godfread
Jim & Rene Gohery
Amber Crowley & Jim Gohery
Uriel & Lorena Gomez
Wally & Kristen Graham
Moses & Heather Greengrass
Mark Grice
Scott & Stacy Grimm
Juan & Deborah Grobler
The Gucwa Family
Garrett Gunter
Yaffa & Yoram Hahn
Hair Bar
Hale Family
Derek & Nancy Hanrahan
Kirsten Hardy
Robyn Cruze-Harrington & Timothy Harrington
Andrea Harris
Glen & Susan Harris
Scott & Nancy Harris
Stewart Hartman
Lyla & Tatym Harvey, Julie Lang
Scott & Sonya Hemmen
Paul & Eden Henschel
Karla Herbold
Doreen Herriott
Jim & Mildred Hickson
Alexis Karolides & Douglas Hill
Rosalyn Hill
Mark Hinds
Joe Hiss
Brian & Tracy Holcombe
Gary & Jennifer Holmgren
Mary Houlihan
Jamie & Jennetta Howell
Hunter Electric
John Brasier & Mitzi Hunter
Hurley Family
Shaw Lewis & Amanda Ingle
Anakeesta Ironwood, Sage Ironwood & Frida Rojo
Deb Jackson
Curt Johnson
Lesa Johnson-Martinez
Mindy Kaegebein
Troy & Taryn Kampe
David Kanzer
Robert & Beverly Kavasch
Sean & Leslie Keery
Jay Keeshan
Michael & Julie Kennedy
Douglas Kidder
Maureen & Oran Kirkpatrick
David T Kirkpatrick
Black Kite
Debra & Ed Kitson
Carol Klein
Jesse Kleinbach
Chris & Sarah Klingelheber
Kelly Klotz
Ray & Marcella Knable
John & Marcy Kneiper
Richard & Diane Knutson
Diana Keyser & Alan Kokish
Ernie & Barb Kollar
Carole Wolfe Korngold
Grandma 'Moe' Kraemer
Mitchell Kraemer
Ken & Sue Krehbiel
Felicia MKuen
Nancy Lajoy
Michael Lambert
Martin & Alice Lancaster
Stephen & Randall Lavelle
Adam & Tanell Lavender
Jack Real & Sue Lavin
Mick & Abby Lavy
Rick & Chris Lawrence
Arlette Lawyer
Megan & Finnian Leahy
Mary Lehrman
Peter Kent & Nita Lescher
Felicia Lewis
Jill Libby
Dave & Tiffany Lindenberg
Michael & Jenifer Lindsay
Robert Little
Julie Lorenzen
The Lott Family
Walter & Mieke Lozano
Charlie & Elizabeth Lozner
Ned Lucks
Cinthya Lugo
Lulubelle
Kathy MacGowan
Chris & Ami Maes
Laurie Maier
Karen Bradshaw & Brett Malcolm
Carlin Mallman
Malloy Family
Claire Malloy
James & Abigail Mandel
Mason & Morse Real Estate
Joan Matranga
Mats Jonsson Photography
Brendan & Abby Matthias
Lisa Welch & Marianne McCafferty
Eddy McClure
David & Joan McGavock
Mark & Sarah McGuiness
McMichael Family
Carl Meitler
David & Shannon Meyer
Jennifer LMichaud
Mid Valley Painting, Inc
Beth Miles
Chris & Candice Miller
Maureen Muller & Jesse Miller
Julia Miller
Robert & Janet Mineo
Jack & Caryl Mohl
Trevor & Danica Moodie
Summers Moore
Kirsten & Rob Morey
Thomas & Shelby Morgan
Elizabeth Moyer
Ronald & Sandra Moyer
Maggie Mueller
Arsene & Bonnie Muhigirwa
Robert H Murphy
Brian & Elizabeth Murphy
Refugio Romero & Maria Najera
Alejandro, Wendy & Jimmy Nakagawa
Victor & Mary Nelson
Matt & Heather Nieslanik
Beth Nix
Debora Noone
Elliot & Caroline Norquist
Sarah Oates
Kayo & Jennifer Ogilby
Chuck & Meredith Ogilby
Oldham Family
Judith Olesen
Jacob & Ginger Opp
Rosa Orellana
Pampered Chef
Charlie & Alice Parker
David & Priscilla Parker
Dana Pauzauskie
Gary & Fiona Pax
Chris & Vicki Peterson
Bette Pietsch
Peg Corcillo & David Pietsch
John & Catherine Placek
Audrey Podl
Scott & Sharon Pope
Joel Rowland & Shobhan Porter
Phyllis Povell
Jason & Victoria Powell
Mark & Stephanie Price
R&A Enterprises
Duane & Lisa Raleigh
Aurelio Aguilar & Martha Ramirez
Silvia Ramos
Jon Nell Loux-Reeds & Arthur Reeds
Reese Henry & Co, Inc
George & Alicia Reidenbach
Richard & Phyllis Reindel
Rich Reindel
David Reindel
Reneker Family
Donna Riley Architect
Richard & Charlotte Romano
Kara Gallagher & Ken Rosenberg
Nancy Kraemer Rosenberg
Edward & Sandra Rosenberger
Kathryn Ross
Ross Montessori PTO
Rothman Family
Nicole Rowley
Sal & Becky Rubino
Rudd Construction
Yuani Ruiz
Lynn Russell Advised Fund at Aspen Community Foundation
Ryan Family
Jose Rodelas & Guadalupe Salvidrez
Maira Sanchez
Kim Reil & Jes Sanderford
Marisela Santiago
Carolyn Fisher & Chris Sapp
Scherer Family
Robyn Scott & Jay Scherrer
Bob & Tina Schrader
Schramer Family
Mary Schramer
Robert & Cheryl Scott
Tam & Sue Scott
Lynne Serson
John Serson
Michael & Jennifer Shanks
Logan Shanks
Andrea Chacos & Sarah Shook
Karyn & Nate Simmons
Mark & Klara Simpson
Ivan & Jackie Skoric
Ivan & Lisa Skoric
Felicity Smith
Jim & Linda Smith
John & Fiona Smollen
Starr Snead
Gary & Barbara Sorensen
Ryan & Erica Sparhawk
John & Devon Sprandel
Spurrier Family
Katie Stiffler
Tim & Ann Stolley
Ann Stolley
Bill Stout
Rod & Gina Stryker
Jon & Wendy Sunshine
Tripp & Gella Sutro
Jody Swanigan
Mario Tellechea & Ana Tapia
Courtney Tedrowe
Eryka Teisch
Scott & Laurel Tesoro
Patricia Thirlby
Jack & Jill Thomas
Armand & Nancy Thomas
Kale Tibbetts
Scott & Steph Timothy
Debbie Todd
Jill Lancelot & Michael Totten
John & Theresa Traul
Kimberly Trenchard
Chris & Amber Trzcinski
Papa & GG Trzinski
Armando & Silvia Turcios
Janne Nikolajsen & Michael Uncapher
Cassidy Cook & Ellie Urfrig
Bronze Urfrig
Sara Vallerie
Don & Kathy VanDevander
Vickers Family
Peter Vitakis
Roula Vitakis
Bill Walsh
Mike & Chip Wells
Keith Whitescarver
Scott Whitworth
John & Paula Williams
Charles & Mary Williams
Gareth & Vivian Williams
Wendy Williams
Cliff & Kristen Willimon
Valerie Wilson-Vinger
Rodney & Sarah Woefle
Wonder Creations, LLC
Stephanie English & Leonard Wood
Karen S Woods
Mary Jo Wright